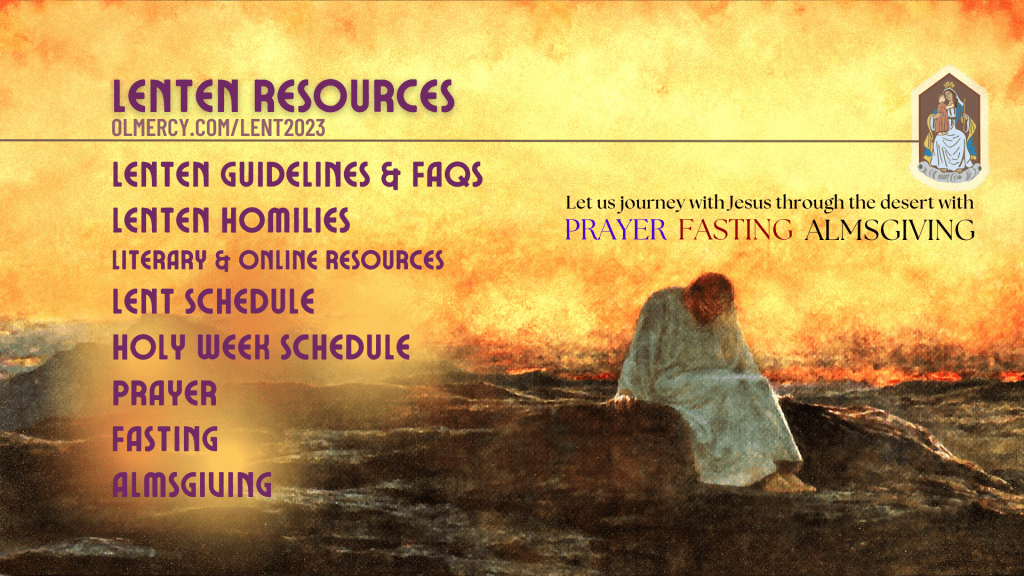 Return to the Lord, your God.

For gracious and merciful is He.
Joel 2:13
So! Are you ready for Lent to begin? Have you decided what you're going to give up? Have you ramped up your new, more aggressive schedule for prayer and Mass attendance? Have you decided how much money you're going to give to the poor or CMAA? Have you done enough? Planned enough? Resolved enough?
If these questions are making you anxious, let's take a deep breath. The last thing anyone wants to do is reduce this season of grace to a to-do list.
Your heavenly Father is gracious and merciful. He is calling out to you so that He can bless you. Yes, there is "fasting, weeping, and mourning," but not out of fear or anxiety (Joel 2:12). They are meant to arise from a heart that wants to know a deeper freedom from sin and fear—a heart that is looking to God for more of His love.
𝗛𝗲𝗿𝗲 𝗶𝘀 𝘁𝗵𝗲 𝗸𝗲𝘆 𝘁𝗼 𝗳𝗶𝗻𝗱𝗶𝗻𝗴 𝗚𝗼𝗱 𝘁𝗵𝗶𝘀 𝗟𝗲𝗻𝘁—𝗮 𝘀𝗼𝗳𝘁 𝗵𝗲𝗮𝗿𝘁. That's why we are encouraged to fast, to pray, and to give alms during this season. They help prepare our hearts to receive God's blessings. We don't do them to prove ourselves to God or convince Him to bless us. We do them because they can help us feel the presence of God. We do them because they can change our hearts and make us more like Jesus.
For the coming season of Lent, we will have 40 days of opportunity to discover just how gracious and merciful our heavenly Father is. We will also have countless opportunities to respond to His grace and mercy, deepening our relationship—through repentance, generosity, worship, forgiveness, and acts of service; check out the Lenten schedule below. However, may we suggest our Lenten offering, 𝘛𝘩𝘦 𝘙𝘦𝘴𝘤𝘶𝘦 𝘗𝘳𝘰𝘫𝘦𝘤𝘵 on Thursday evenings during Lent; 𝗶𝘁 𝗶𝘀 𝘀𝘂𝗰𝗵 𝗮 𝗽𝗼𝘄𝗲𝗿𝗳𝘂𝗹 𝗼𝗽𝗽𝗼𝗿𝘁𝘂𝗻𝗶𝘁𝘆 𝗳𝗼𝗿 𝗼𝘂𝗿 𝗵𝗲𝗮𝗿𝘁𝘀 𝘁𝗼 𝘀𝗼𝗳𝘁𝗲𝗻 𝗮𝗻𝗱 𝗼𝗽𝗲𝗻 𝘁𝗼 𝘁𝗵𝗲 𝗟𝗼𝗿𝗱, 𝗯𝗲𝗰𝗮𝘂𝘀𝗲 𝘁𝗵𝗮𝘁'𝘀 𝘄𝗵𝗲𝗻 𝘁𝗵𝗲 𝗰𝗵𝗮𝗻𝗴𝗲𝘀 𝗿𝗲𝗮𝗹𝗹𝘆 𝗵𝗮𝗽𝗽𝗲𝗻. 𝗜𝘁 𝘄𝗼𝘂𝗹𝗱 𝗯𝗲 𝗴𝗿𝗲𝗮𝘁 𝘁𝗼 𝗷𝗼𝘂𝗿𝗻𝗲𝘆 𝘄𝗶𝘁𝗵 𝗲𝗮𝗰𝗵 𝗼𝘁𝗵𝗲𝗿 𝘁𝗼𝗴𝗲𝘁𝗵𝗲𝗿 𝗮𝘀 𝗮 𝗽𝗮𝗿𝗶𝘀𝗵, 𝘄𝗲 𝗵𝗼𝗽𝗲 𝘁𝗼 𝘀𝗲𝗲 𝘆𝗼𝘂 𝘁𝗵𝗲𝗿𝗲; 𝘀𝗶𝗴𝗻 𝘂𝗽 𝗻𝗼𝘄 𝗮𝘁
www.olmercy.com/therescueproject
"𝘍𝘢𝘵𝘩𝘦𝘳, 𝘵𝘩𝘢𝘯𝘬 𝘠𝘰𝘶 𝘧𝘰𝘳 𝘪𝘯𝘷𝘪𝘵𝘪𝘯𝘨 𝘮𝘦 𝘵𝘰 𝘤𝘰𝘮𝘦 𝘵𝘰 𝘠𝘰𝘶 𝘵𝘩𝘪𝘴 𝘓𝘦𝘯𝘵. 𝘉𝘺 𝘠𝘰𝘶𝘳 𝘚𝘱𝘪𝘳𝘪𝘵, 𝘩𝘦𝘭𝘱 𝘮𝘦 𝘵𝘰 𝘴𝘰𝘧𝘵𝘦𝘯 𝘮𝘺 𝘩𝘦𝘢𝘳𝘵 𝘵𝘰𝘸𝘢𝘳𝘥 𝘠𝘰𝘶 𝘢𝘯𝘥 𝘵𝘩𝘦 𝘱𝘦𝘰𝘱𝘭𝘦 𝘢𝘳𝘰𝘶𝘯𝘥 𝘮𝘦."