---
October 7, 2021 | October is Respect Life Month
We believe that all life is sacred, and that every person is created in the image and likeness of God. We must share the good news that every person is loved by God and that we are called to defend the dignity of life from conception until natural death.
Be encouraged to engage in one or several of the following ways to be an advocate for the innocent unborn who can't speak for themselves, pray for the sanctity of life.  Please also share this message with anyone you know who is able to help or would like to participate.
blank space
blank space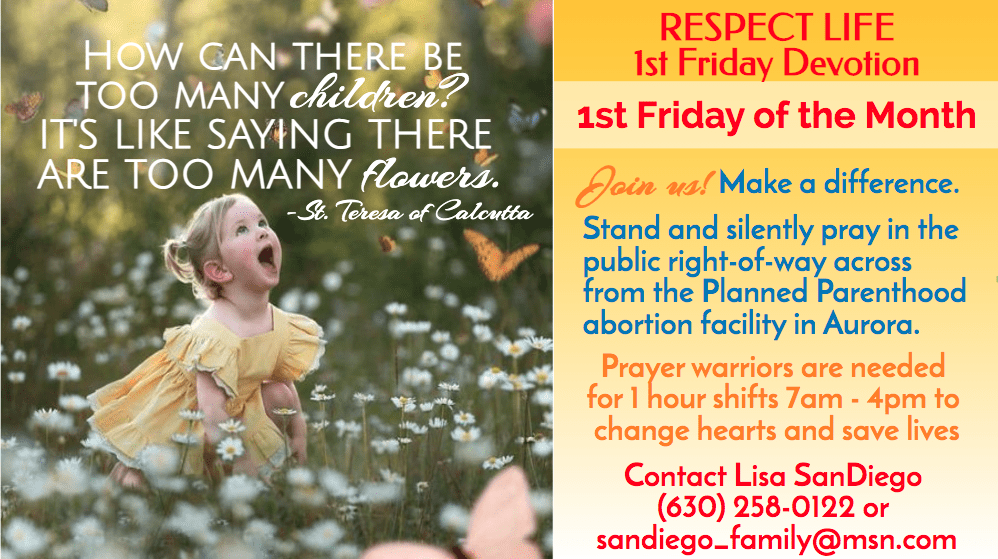 ---
DO YOU KNOW SOMEONE FACING AN UNEXPECTED PREGNANCY?
Share this video with them so they know they aren't alone and that there is support for them and their beautiful baby.
Invite them to Waterleaf, where they offer free pregnancy services and options consultation so they can make educated decisions about their pregnancy.
Waterleaf
3055 E. New York Street
Aurora, IL 60504
630.701.6270
HELP FOR MEN, WOMEN, AND FAMILIES RECOVER AFTER AN ABORTION
You may feel alone.  Maybe your abortion was some time ago, and you never told anyone.
At the time, you may have felt like abortion was your only choice. Some of us felt that way too. Many of us thought we were the only ones struggling afterwards.
But now we realize that other women regret their choice too. We're now learning that abortion didn't solve our problems, it just created different ones that it has a deep ripple effect. You may have chosen abortion personally, lost a child to abortion, or your life has been profoundly affected by abortion. SaveOne can help you through the healing process. Click here to start your journey today.